OKC's Sweetest Raw, Local Honey!
We are 3rd, 4th, and 5th generation beekeepers! Queen Bri's award-winning honey is a sweet, clear honey made by our honey bees from the nectar of fields of clover, wild flowers, and honey locust tree blossoms that grow in the countryside surrounding our hives. We currently have raw, local, bee honey for sale, both in 5 gallon buckets an in 1 pound bottles. Our honey bees produce the best-tasting raw, local honey around! If you're looking to buy honey that is locally produced by Oklahoma honey bees, give our honey a try!
---
Beginner Beekeeping 101 Class in Oklahoma City!
Queen Bri's Honey Farm now has a Fall Beginner Beekeeping 101 class schedule available! Click below to find out how to sign up!

---
Looking for a Beginner Beekeeping 101 Class? Check Out Our New Online Class!
Why an Online Class?
You can take it anytime of year. No need to wait until Fall or Winter to take a class.
 You can take it anytime of the day/week. Most classes are offered only on weekends, but what if you work on weekends or can't go because you're at your child's soccer game?
 You don't have to drive anywhere to take the class. What if you don't have a Beginner Beekeeping class offered near you?
An online class typically has more content than an in-person class because with an online class, I have to get everyone out the door by 5pm at the end of each day! (Tick Tock, teacher, Tick Tock! Everyone is looking at their watch by the time they've tried to learn all about beekeeping from 9-5 on Saturday!)
 A good online class will be packed not only with classroom material, but lots of good video shot onsite at an apiary to show you exactly what to do.
Want to Find Out More About This Class?
---
BRING YOUR OUTDOOR SPACE TO LIFE
Queen Bri's Honey is a full-service beekeeping operation. We install and manage beehives for residences and businesses in the Oklahoma City and surrounding areas, and sell the local honey from our honey bees  almost as fast as it is extracted from our hives. We also design custom honey labels and custom websites for beekeepers nationwide.
---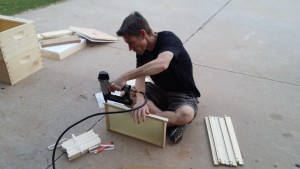 How do you get started in beekeeping? How much space do you need to have a hive? What if I only need help getting started, but I don't need the other services? How much honey will my own hives produce? How much will having a hive cost me? Can you teach me how to do everything so I can maintain my own hives? Learn More
---