Don't Own Your Own Extractor?
The honey harvest is one of the best times of the beekeeping season. It is truly an event at our house to which our family and friends look forward. It involves a lot of work, a lot of stooping over, and can make your back and shoulders hurt. But, everyone really enjoys watching the entire process of how honey is removed from the honeycomb for bottling.
What if You Want to Extract Your Own Honey?
You can either buy an extractor online (expect to pay over $300 for a good one) OR you can contact your local beekeeper association to see if they have one that they loan out. Our beekeeper association has several that are loaned out to members only.
Just Give Me My Honey!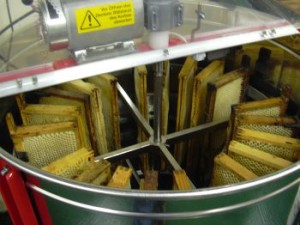 You might not have the time, energy, or stamina to extract and bottle all of your own honey.  Or, you might not have the money to buy an extractor right now.
Regardless of the reason, if you need help, we can extract and bottle the honey for you.
You can either harvest your own frames from the hive and leave them in a safe place for us to come get them.
Or, if you'd like us to also harvest the frames from the hive for you, there is a slight additional fee of $25 per hive to go get them for you, plus any gas and drive time it takes us to get there.
We will bring your frames back to our honey house, keep it all separate so that you know it contains only YOUR honey, extract it, and bottle it for you.
If you need custom honey labels designed and printed for your honey bottles, we can provide those to you as well at an additional cost.
Your honey will be returned to you in 1 lb. plastic bottles. If you provide us with labels for the bottles, we can put those on the bottles for you as well.
---
Pricing:
Pricing is charged based on the weight of 10 frames of capped honey. We will weigh the honey at your location, and give you an estimate of the cost. We charge $4 per lb. to extract and bottle the honey for you, and $0.50 per mile for any location outside a 10-mile radius from our apiary.
Most 1 lb. bottles of honey currently sell for $10, so that will still leave you with a $6 profit per bottle.
If you need us to harvest the frames out of your hives for you, we charge $25 per hive to do this for you because this will require us to suit up, smoke your bees, etc.
Payment is required via PayPal prior to delivery of the bottled honey and extracted frames to you. Failure to pay will surrender all honey and extracted frames to compensate our beekeepers for their time.
If you're interested in discussing this service with us, please contact us at (405) 314-8175 for more information!