Would You Like to Host One of Our Beehives at Your Location?
Hosting a Hive for a Business or Farm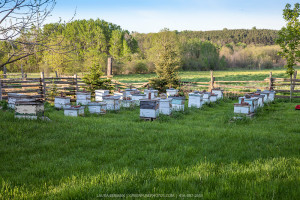 There are many different reasons why a business, farm, or individual might be interested in hosting a hive at their location. They might not have the beekeeper training to maintain the hive themselves but want the pollination or entertainment benefits of having the hive on their property.
We can place one or several hives on a host's property. These honeybees and hive equipment remain the property of Queen Bri's Honey. And, we will be responsible for maintaining the hive as well as harvesting the honey from them.
The host will receive up to 5 lbs. of honey per year, per hive depending on how productive the hive has been.
---
Pricing
This service is entirely dependent upon our hive availability and might not be available at certain times of the year.
Pricing varies based upon your location and distance from our apiary, the number of beehives to be maintained, and whether or not you are a residential or commercial client.
Residential Client – $75 per month minimum. Prices may be more depending on your location due to distance required to travel and gas mileage.
Farmers – If you are interested in having beehives brought out to your crops only during bloom, we can bring our hives to you. We charge $100 per hive, depending upon your location. Queen Bri keeps the honey produced during that time from your field.
Commercial Client – $175 per month minimum. You must carry and provide a certificate of liability insurance with a cumulative amount of $2,000,000 for your business and business property, and it must include coverage for workers or customers who get stung by the bees. You also must maintain an Epi pen on-site at all times in the event that one of your owners, employees, or customers are stung who have an allergy to bees.
If you're interested in having us maintain your hives for you, please contact us with any questions or to get on our schedule at (405) 314-8175.