Beekeeping 101 – Want to Be a Beekeeper? 
---
---
Why Take an Online Beekeeping Class?
 You can take it anytime of year. No need to wait until Winter to take a class.
 You can take it anytime of the day/week. Most classes are offered only on weekends, but what if you work on weekends or can't go because you're at your child's soccer game?
 You don't have to drive anywhere to take the class. Many times classes are only offered in metro areas, so it can be a long drive to get to a multi-weekend class if you live a couple of hours away.
 An online class typically has more content than an in-person class because with an online class, I have to get everyone out the door by 5pm at the end of each day! (Tick Tock, teacher, Tick Tock! Everyone is looking at their watch by the time they've tried to learn all about beekeeping from 9-5 on Saturday!)
 A good online class will be packed not only with classroom material, but lots of good video shot onsite at an apiary to show you exactly what to do.
---
Why the Bee Calendar Affects Beekeeping Class Schedules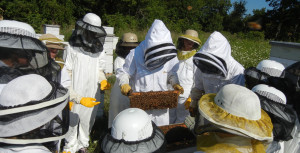 Most classroom beekeeping courses are offered only during the Fall and Winter months.  This is due largely to the calendar that beekeepers must follow. The only time of year that you can start new hives in parts of the world with 4 distinct seasons is Spring and Summer. Hives started later in the year than that don't have enough time to build up new honeycomb for a brand new hive to store up enough honey to get them through the winter. So, beekeeping classes are typically offered in the 'off' season so that new beekeepers are trained and ready to go by Spring. This is also the 'off' season for your beekeeping instructor, who is probably working in their apiaries in the Spring and Summer and not teaching.
This doesn't mean you can't learn how to become a beekeeper the rest of the year though! At anytime of the year, you can watch YouTube videos, read beginner beekeeping books, shadow another beekeeper, and begin attending your local beekeeper association meetings OR attend our online beekeeping class (<== And, we highly recommend you do that last one, Wink, Wink).
---
How to Sign Up for Our Beekeeping 101 Class
Our Online Beekeeping Class is hosted on the world's most popular and largest learning platform – Udemy.com. Our class is Udemy's #1 best-selling beekeeping class, and we have students taking the course in 33 countries around the world.
Price of our Online Class – $59.99

---
What We Cover in the Course
With 44 lessons and 9+ hours of instruction, there is a ton of information packed into this course. In fact, this course contains even more information than my 2-day in-person beekeeping class that I conduct and less expensive too (My 2-day in-person class costs $80!)
We will cover the following topics:
History of Beekeeping
Benefits of Bees
Decline of the Honeybee Population
Zoning, Neighbors, Family Support, Costs, and Time Considerations
What You Need to Do Before You Start Beekeeping
Types of Honey Bees
Obtaining Your Bees
How Bees Communicate and Make Honey
Honey Bee Life Cycle – Honeybee Jobs & How Queens are Made
Types of Hives
Selecting a Location for Your Hives
Protecting Your Hives With Raised Stands and Fencing
Basic Beekeeping Equipment – What You Need and What's Optional
Video Demo: Basic Beekeeping Equipment
Video Demo: How to Build Your Equipment for Your Bees Arrival
How to Install Your Bees into Their New Hive
Video Demo: How to Install Packages of Bees
Do's and Don'ts Before Visiting Your Hives
How Often to Inspect Your Hive Throughout the Year
Video Demo: How to Light Your Smoker
Video Demo: How to Suit Up to Prevent Getting Stung
How to Inspect a Beehive – Inside and Out
Video Demo: How to Inspect Your New Beehive
What to Expect Your First 12 Months
Beekeeping Calendar: How Beekeeping Inspections Change Throughout the Year
How Nectar Flow and Bloom Cycles Affect Your Bees
Common Hive Problems
Potential Hive Diseases
Honeybee Pests – Prevention and Treatment
Honey Harvest – Honey Extraction Equipment Needed & How to Harvest Your Honey
Honey Label Requirements
Cleaning Up Your Beeswax to Make Bee Products With It
When and How to Prepare Your Hives for Winter
Video Demo: Preparing Your Hives For Winter
This class uses multiple learning formats, from PowerPoint slides, to handouts, to on-site video demonstrations in our apiaries so that the information can be easily learned no matter your preferred learning style.
If you have any questions during or after the course, you are always more than welcome to contact me. I am so excited to hear stories about your new beekeeping adventures!