Want to Take a Beginning Beekeeping Class in Oklahoma City?

Looking for a beginning beekeeping class in Oklahoma City? We utilize a mixed learning style of lectures, equipment on display and videos from our own apiary that demonstrate certain hive inspection techniques, and other videos that discuss why our honeybee population is declining worldwide.
You will learn everything you need to know to get started Beginning Beekeeping in this class. We'll cover lots of topics!
2-Day Classes:  Saturday from 9am-6pm & Sunday from 12pm-5pm
Price: $80 (2-Day)  Per Person (Must be 10+ Years Old to Attend)
Location: 8524 S. Western Ave., Ste. #110, Oklahoma City, Oklahoma, 73139
February 8-9th, 2020 – 2-Day Class
March 7-8th, 2020 – 2-Day Class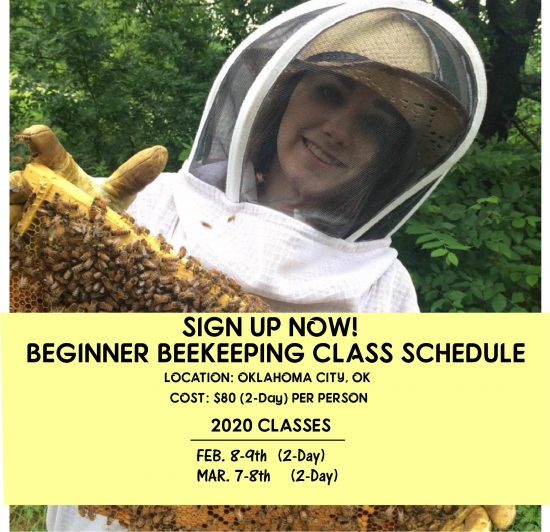 2-Day Beginning Beekeeping  Class in Oklahoma City Topics
What you'll learn:
– We will teach you the basics of how to get started as a competent beekeeper!
– Selecting a site location for your bees
– What type of bees to buy and costs
– Basic beekeeping equipment needed and costs
– How to get your bees into your hive once you get them
– Hive inspection techniques
– Identifying hive pests and diseases, preventing and treating them
– How to harvest your honey
If you or a family member have ever wanted to learn how to become a beekeeper, THIS is your beginner beekeeping class! And who knows? You might start a hobby in which your whole family becomes interested!