Looking for a Beekeeping Class That Will Help You Recognize if You Have a Hive Problem and How to Fix It?
Need a beekeeping class that will help you figure out what is going on with your hives? Are you having problems with your hives and you just don't know what to do next? Are you confused about whether or not your beehive has a problem at all? Are you confused by all the conflicting suggestions you're receiving from fellow beekeepers, and you're just about ready to throw your hands up in the air and say what did I get myself into with this hobby?!?
We utilize a mixed learning style of lectures, hands-on demonstrations (in the class setting, no live hive inspections), equipment that you can look through, and videos from our own apiary that demonstrate some of the most common problems beekeepers face and how to address them.
Cost: $30
Time: 9am-Noon Weekends
Location: 8524 S. Western Ave., Ste. #110, Oklahoma City, OK 73139
Saturday, June 23rd, 2018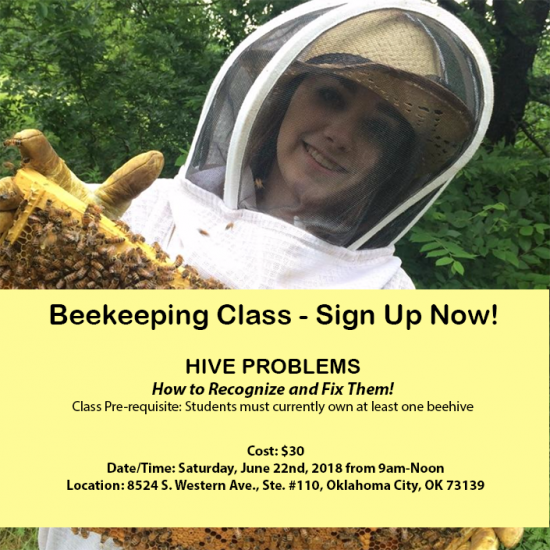 Beekeeping Class
Hive Problems
How to Recognize & Fix Them!
What you'll learn:
– Why your package or nuc isn't growing very fast or maybe even at all
– How to know if your hive is queenless and what to do about it
– Why your hive won't build out honeycomb properly (or much at all)
– Hives that keep making queen cells
– Swarming & absconding problems
– Pesticide issues near your apiary
– What to do about little to no eggs or larva present and/or spotty brood patterns even though you have a queen
– Where to buy queens when there are none available to buy in your area
– What to do with weak hives going into the dearth
– How to deal with honeybound hives (queen has no room to lay)
– How to deal with constant bearding of your hives (when half your hive is hanging on the outside of your hive)
– When honeybees won't move up into your honey super even though they are running out of room below
– What to do when you see wax moths inside your hives
– What you should be inspecting inside and outside your hive boxes
– How often you should be inspecting your hives in the Summer and what you'll probably see (that is different than Spring time)
This class will be helpful to first year beekeepers as well to those with more experience who are stillnot comfortable with what they are seeing inside their hive boxes, and would really like to get more comfortable with what it is they should be doing as a beekeeper during the Summer months.

---