OKC's Sweetest Raw Local Honey!
---
 Looking for Raw Local Honey or Bee Pollen in the Oklahoma City Metro-Area?
Our raw local honey is made by our honey bees in an area just outside of Oklahoma City surrounded by fields of clover and wild flowers, and honey locust trees that bloom most of the summer. Whether you're a connoisseur of raw honey looking to add that perfect touch of sweetness to a recipe for a local restaurant or a constant consumer of raw honey at home, our honey bees make the sweetest honey you've ever tasted. With only a lingering sweet aftertaste, it's the perfect complement to most recipes.
---
Where Did the Honey Bees Make Our Local Honey?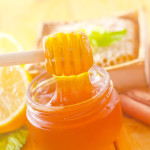 We currently have two types of local honey available – clover honey and wildflower honey. This raw local honey was made in Southwest Oklahoma City.
Queen Bri's Private Reserve Honey is out of stock until we harvest again in July 2018! Our Private Reserve honey is our award-winning sweet clover honey that sells out within 5-6 months after harvesting it in July. This honey is a light, clear, very sweet honey that comes from our apiaries that are located next to wild clover fields of 5 different varieties of clover.
Our other raw, local honey is a wildflower honey that is darker in color with an aftertaste that has both a sweet taste and very fragrant bouquet that literally blossoms in your mouth! We are out of stock of our wildflower honey until we harvest again in July 2018!
---
Local, Raw, Bee Honey and Bee Pollen For Sale